LOUISVILLE LOVES HORROR #31: 1200 LOVES The Shining (1980)
Surely by now you know and love
1200
(AKA Jecorey Arthur) as a hip hop artist and classically trained musician. You've heard his songs, you've seen him at big events like
Forecastle
,
Gonzofest
and
Waterfront Wednesday
, and you've become a better person because of it. Having said that, his next project might be his most ambitious venture yet: a horror film.
Yeah, I didn't see that coming either, but he definitely has my attention. The title of the movie is
Seance
, and it will serve as the first film by 1200 and 
Seven Nine Eighty Productions
. It is titled after 1200's upcoming full length record with the same name. I asked him what the movie is about and this is what he told me:
"The film features horrific truths and artistically fantasized depictions of inner city life. Filmed in America's most preserved town, Union City IN, it is sure to be the perfect blend of classic psychological horror and modern art."
Yeah, he isn't revealing much, but I love the ambiguity of his description. As of right now, there isn't any more information about the flick or record readily available, but when we're gifted with some new details we will certainly clue you in.
Considering that 1200 is involved with an upcoming fright film, we figured that getting him involved in our ongoing LOUISVILLE LOVES HORROR series would be paramount. Thankfully, he was willing to participate with an awesome retrospective and a chilling photograph of himself (see above).
Read on as 1200, in his own words talks about a Kubrick/King classic from 1980…
1200 LOVES
THE SHINING
Horror is a genre that will never get old because humans will always have fears. Above my bed, creepily watching me sleep is a large, framed collage poster of a horror classic, The Shining.
The Shining was by far one of Stanley Kubrick's most profound films. If you know Kubrick's work as a director, you know he was a perfectionist in a strange way. It is hard to believe this was his first horror film, but even harder to believe it released the same year as Maniac, Friday the 13th, and many other gory classics. Kubrick created a psychological horror film and completely shifted the way horror was perceived. The story-line was full of misdirection and supernatural confusion. The story itself is based on a Stephen King novel which Kubrick openly veered from.
What makes The Shining and any story so profound are its characters. Kubrick brought his characters to life with his off-camera interactions.
Jack Nicholson
, the husband, played an axe-wielding maniac. While filming, Kubrick was always cool and calm with him so that Jack could properly rehearse and put himself in the mindset of his character.
Shelley Duvall
, the wife, played the main victim of the movie, often screaming in terror and distressed. It is documented that Kubrick was rude to her, and did everything in his power to make her feel isolated on set. She was under so much stress that she began losing her hair from it. This showed in her character throughout the movie. Danny Lloyd, the son, was the playful 5 year-old that had a ton of disturbing moments. Kubrick wanted his character to seem innocent in the film, so the crew avoided telling him that he was filming a horror movie. This family of three set the perfect mood for The Shining but they were not the characters that truly made it a psychological horror classic.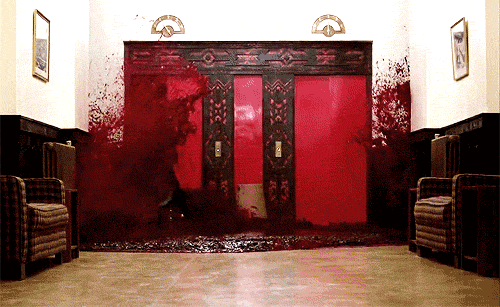 The character that pushed the movie beyond its box was none other than the Overlook Hotel itself. The hotel embodied the human insanity that we attributed to Jack's character, and constantly made viewers feel unsettled. Doors opened behind fireplaces, and they also opened to nothing; they even moved to different walls throughout the movie. The corridors and ballrooms seen were actually too large for the hotel itself. Windows were seen with outdoor views that actually had rooms surrounding them. The impossibleness of the hotel made viewers feel like it was impossible to escape. Throughout the film you will also notice that nothing used visible power – the lamps, televisions, etc were not plugged in. It is rumored that this was done to make the hotel feel like it powered itself. There was one scene where you could see a plug running from a lamp, but during that scene many items moved from shot to shot in the room. Kubrick was such as perfectionist that several scenes were shot over a hundred times. If anything moved in the scene, it was because he wanted it to.
Given the proper movie-watching setting, The Shining will give you anxiety. It is not a film you can mindlessly watch to truly understand, but one you must think critically to grasp.
Photo of 1200 by Mallory Talty