REVIEW: Seluah – Red Parole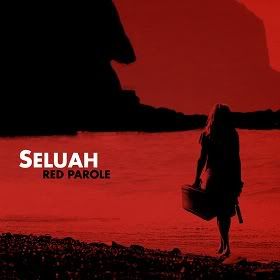 Seluah
Red Parole
Karate Body
For better or worse, this is not the Seluah I remember. The Seluah I recall was not concerned over volume, because every song was relaxed, quiet, and poised for something specific. At least in the latter this band lives on in that every aspect of every song is deliberate, that everything you hear is a specific affectation meant to conjure a specific mood. Gone, though, are the quiet synth sounds and subdued drumming.
This is a truly a band reformed, one that definitely isn't shy to show its guitar-influenced dick in everything. That's a real thing -a guitar-influenced dick- insomuch as a guitar-based record can be said to rely on riffs and solos as a narrative necessity to complete the structure of a song.
Personally that's not my cup of tea, but then I don't drink tea so maybe I shouldn't be reviewing bands that have turned to the guitar, specifically
guitar heavy rock, where they once relied on ideas and instrumentation that were more subdued and contemplative.
This isn't to say that "Red Parole" is bad. Replacing the quiet, melodic work with louder guitars just repositions the group to a larger pop audience, one that especially gravitates to the guitar, bass, drum, and vocal composition that the majority of Red Parole consists of. Still, the album is not entirely married to that format. They only use conventional means to convey the same tropes as a thousand bands before them, as songs like "Disengage" or "Sail Straight Into The Bombs" seem to argue the contrary, that Seluah has much more than just the conventional loud/quiet rock to contribute. On the aforementioned "Disengage" we hear a band that carefully relies on strings and keys to produce the atmosphere that they were known for during their earlier incarnation, that of a band more adept at creating ambience than any specific melody, rather than a guitar rock band not afraid to rock the fuck out. It's that "rocking the fuck out" that sounds so strange in context, that Seluah were at one point so synonymous with quiet, contemplative dub-indie-synth pop that they never even considered their modern guitar rock approach until recently. It's this guitar riff approach that is perhaps the band's greatest detriment.
It's not that they are inherently ineffective at guitar, as every guitarist that I hear on this recording sounds talented at their instrument, but rather that this signature merely seems tired, especially when put in the same framework with their previous release. This type of guitar heavy, psychedelic-influenced, post-rock, has been heard before, and given Seluah's calculated musical choices throughout their history, not as musicians beholden to loud guitar rock, but to very deliberate chamber pop with dub influence, this sounds like a massive step back. Conversely, this implies that the synth and electronic version of the band that existed nigh a decade before was somehow prescient in their attack, rather than immature as this record would have you believe. Instead we have a record that vacantly recalls what came before like a distant memory, a record that provides some sort of nostalgic sanctuary of guitar rock in place of the musical innovation the band is capable of.
While there are some lovely tracks on this record ranging from "Disengage" to "Sail Straight Into The Bombs" or "We May Never Make It Home" that focus on comparatively more abstract instrumentation, there are so many more that seem determined to rock. Obviously, I see that their strengths lie in their subdued numbers, or their tracks that rely on the maxim that less equals more. It is in these sonic musings that their true strengths lie, not as a guitar driven band, but as a band that focuses on sound and sound construction as much as riff rock to formulate a compelling sequence. In short, bring on the fucking dub. I mean, shit, let's just space the fuck out and relax already. We have enough rock by 2012. Bring on the fucking dub. Jeez.
Listen and learn about Seluah here.