REVIEW: Tropical Trash – "Fear of Suffering"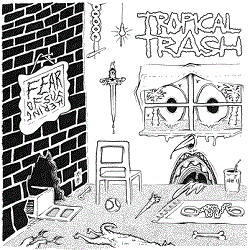 Tropical Trash
Fear of Suffering
Sophomore Lounge
I didn't know that much about Tropical Trash before the first time I placed their debut seven inch record Fear of Suffering at the center of my turntable. I knew of a few "exmember-ofs" from the band but had no idea what to expect as I'd never caught them at one of their shows. The first side showcases a track called "Baltimore". At first listen, I'm immediately reminded of art-rock bands like Crain, Rodan, and/or Shipping News. At 5:19, this is by far the longest song from the record. After a louder opening with a harsh guitar and drum synthesis, the song finds a pleasant groove complete with spaced out vocals and an almost jazzy toe-tapper of a drum section. Plenty of atmospheric guitar sounds fill out any empty space . After a brief instrumental break-down, the tune is back on its way as it comes full circle back to the initial riffing that it opened with. That was nice.
The next four tracks are very short – only a little over a minute each. Although they are at similar length, the songs have mostly nothing in common. "False Crypt" is a noisy number with much fuzzier vocals and guitar. "Pentagram Ring Finger" and "Burning Ghost" both radiate feelings of nervous urgency and paranoia with more urgent upbeat riffing and vocals. "Raw Mind", much like the first track, reminds me a lot of indie/art rock bands of the past such as Cerebellum or Slint with a beautifully unnerving repetitive guitar riff and rhythmic spoken vocals.
At five songs, there is a lot to chew on for a seven inch. While each song has its own pulse and personality, there is an imminent sense of dread and anxiety throughout the record especially enjoyed with the lights off. After revisiting Fear of Suffering several times, it's easy to get excited about Tropical Trash. My highest recommendation.