Old Baby set for record release show — 200 Years and State Champion join the party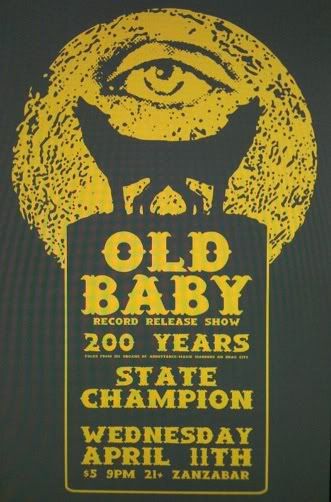 Relatively new band Old Baby are ready to offer you their debut record, Misunderstanding Human Behavior, on Hawthorne Street Records. If you didn't know, Old Baby features band members Todd Cook (SHIPPING NEWS, KINGS DAUGHTERS AND SONS), Jonathan Glen Wood, Neil Argabright (SAPAT), Drew Osborn (WORKERS) and Evan Patterson (YOUNG WIDOWS). Pick up your copy of the new album at the record release show Wednesday, April 11th at Zanzabar. Listen to a song from the album below:
Old Baby – Pale as Man by brooklynvegan

Joining the bill is new singer-songwriter duo 200 Years, the new project from Ben Chasny (Six Organs of Admittance, Rangda) and Elisa Ambrogio (Magik Markers). They are on tour in support of their highly acclaimed debut selftitled record out now on Drag City. Check out the music video from the band featuring their song "Solar System":

Also joining the lineup is State Champion who are stopping in Louisville as a sort of homecoming from their recent tour. Their latest record Deep Shit is one of my favorites to be released over the last half year or so, and seeing them play in person is always pure satisfaction.
state chimp from sophomorelounge on Vimeo.
Again, the show is at Zanzabar (2100 S. Preston Street) Wednesday, April 11th. Doors open at 9PM, the show will cost you only five dollars, and is 21+. For more information on the event, check out the facebook page HERE. See ya there!