INTERVIEW: David Cundiff talks about Madame Machine, Lucky Pineapple and more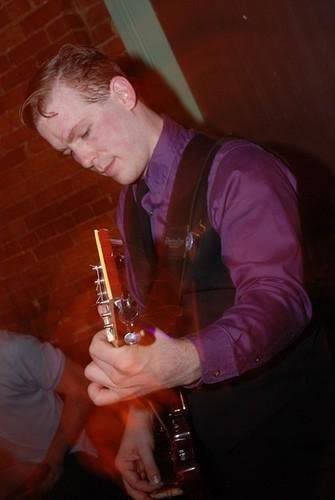 David Cundiff's new band Madame Machine are ready to release their debut seven inch record on Noise Pollution. Pick up your copy at the release show this Friday (3/30) at Third Street Dive. A few days ago I was able to chit-chat with him about his new band, his old band Lucky Pineapple, and more…
Never Nervous: Talk to me about your new band Madame Machine. Who all is in the band and how did the project begin?
David Cundiff: Myself on bass, guitar & keys; Salena Filichia on bass & keys; Forrest Kuhn will play his 1st show with us on Friday (drums). For me it started when I answered a call for anyone with lots of different instruments looking to make some noise. "Noise" I believe was meant to be taken literally. At that time Salena had been writing songs with Steve Shoemaker, our 1st drummer. I dug their songs and was really thrilled to get to play and sing some of my own songs. Salena is really good at making a simple piece sound more interesting. Writing together has been very fulfilling too.
NN: Are there any bands or artists that directly influence you to write for Madame Machine?
DC: The influences that seem to me to come out more than anything else with this band tend to be metal and prog type bands: Iron Maiden, Rush, Emerson Lake & Palmer… Also, I listen to a lot of early 1980's new wave bands like the Human League, Ultravox, Duran Duran, etc. These bands have definitely been huge keyboard influences as I am not a trained musician.
NN: Vocally you remind me a lot of singers like of Dave Gahan of Depeche Mode and Philip Oakly of The Human League. Is that a conceived effort or coincidence?
DC: Not really intentional, but since those are some of my favorite groups it would be silly to pretend that I haven't been heavily influenced by them. I'm more comfortable singing in that lower range too, although I am always trying to expand. Plus, I'm not a screamer. That whole "new wave" scene were basically a bunch of David Bowie fans, which is something I am also guilty of being.
NN: You played bass in the now defunct band Lucky Pineapple. After a lengthy and successful run, what made the band decide to disband?
DC: We were and still are all good friends, but we weren't really having enough fun making music together to keep it going. Having so many people as equal partners made things quite difficult most of the time too. With that many people, at least a couple are going to be unhappy with what's going on at any given time. By the end the vibe was pretty much gone. Short answer: our drummer quit.
NN: Are you currently working any other projects aside from Madame Machine?
DC: Salena just played her 1st show with Julie of the Wolves. For me this is it right now. I played bass in a couple of musicals, but I think that was over with before this band started. I had forgotten about this, but Steve Shoemaker and I had been practicing with an old band of his from Lexington called the Go Kill Yourselves. Too bad that fell apart, I really dug their music.
NN: How do you view music in Louisville currently? Do any bands stand out to you?
DC: There are tons of active bands around that I haven't had a chance to hear and I'm trying to remedy that. Any project involving Dane Waters is worth your time. She fronts Softcheque and put out a solo cd this past year. The Teeth are great and surprise me with every new song of theirs I hear. As long as Ultra Pulverize are together, they will probably be my favorite Louisville band.
NN: Before you go, tell me about three records you've really been into lately.
DC: These probably won't surprise anyone. Thin Lizzy's "Thunder and Lightning" has been in my van for about a solid month now. This was to be their last album, but the songwriting was just as powerful as their earlier classic material. Although Queen's "Sheer Heart Attack" is still my favorite of theirs, I have been listening to "Queen II" constantly at home. "Ogre Battle" is such a great track, but the whole album is solid. Finally, a friend of mine just loaned me a couple of records by Nash the Slash. The "Decomposing" EP has some remarkable sounds on it. All synths, drum machines, electric violin. I think some of his albums even had the disclaimer: 'no guitars'.