Free Download: Comp from Sophomore Lounge
Sophomore Lounge is currently one of the most active and relevant independant record labels in Louisville. Ryan Davis, the mastermind behind the operation, has put out a wealth of fantastic albums from bands such as Mansions, Phantom Family Halo, and Slithering Beast to name a few. The entire roster can be found HERE, and the entire record catelogue can be found HERE.
Check out an older free comp from Sophomore Lounge entitled "A Family Album." It features 13 songs from a sample of the label's finest: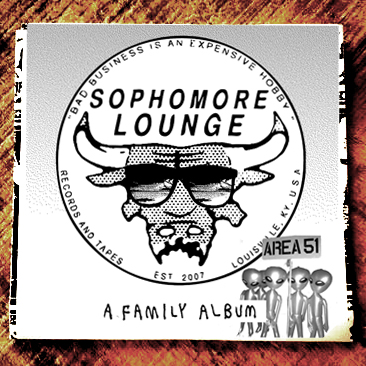 1. Animal City – What Did You Say
2. Meah – Party @ Geoff
3. Fielded – White Death
4. State Champion – Thanks Given
5. Little Gold – Oh Dad
6. Giving Up – Psychomania
7. Phantom Family Halo – Bringing Back The Dead
8. Life Partner – Life Bandage
9. Hype Williams – Track 3
10. Putting Out – Puke
11. Animal City – Anna Gotta Devito
12. Slow Horse – American Pop
13. Phantom Family Halo – Black and White Magic
Download the comp HERE.